Barnett Custom Gunstocks & Engraving
One of the fastest growing areas of our business is custom gunstocks and engraving.  We feel we offer some of the finest quality carving and engraving to be found anywhere.  And we know our prices are far below the normal custom gunstock and engraving prices you will find on the web.  Below you will see some samples of gunstocks, but feel free to contact us for one of a kind creations.
Engraving prices for a full rifle stock, with basketweave and/or leaf coverage, start at $350 plus shipping. Complete stock coverage with leaves/basketweave and your choice of animal or bird on each side of the butt is $450 plus shipping. If you are just interested in a bird or animal alone it is $150 per side. Metal engraving on both sides of the receiver is $350 plus shipping. When you are ready to order, please give us a call or email us for complete mailing instructions.
For those of you who are looking to purchase an engraved piece, we often have items listed on GunBroker.com. Follow this link and search by our seller id "barneyjo" for some great buys.
GunBroker.com.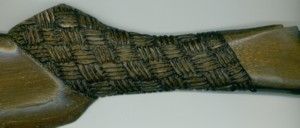 Basket Weave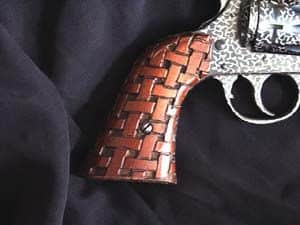 Basket Weave design on pistol grip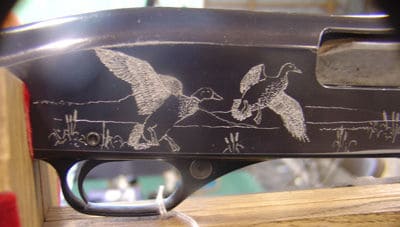 Engraved Receiver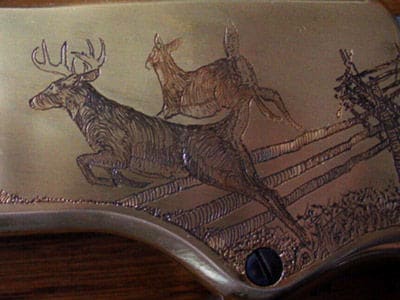 Deer Scene engraved on brass receiver of Henry Rifle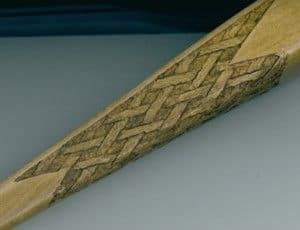 Basket Weave over Factory Checkering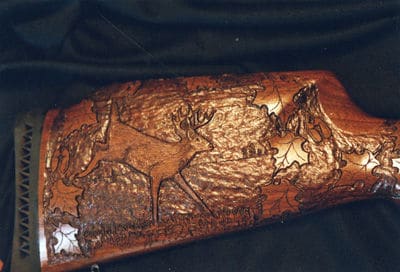 Carved Buck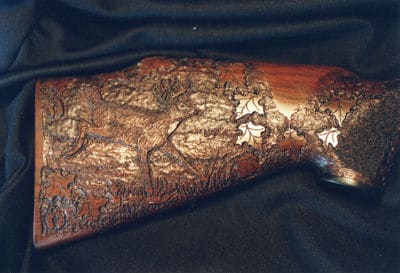 Deer Scene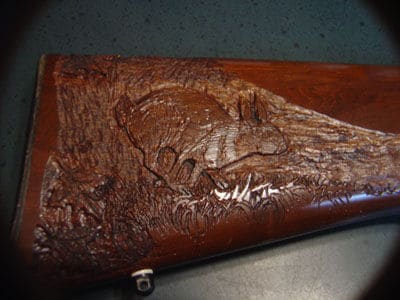 Rabbit
Beagle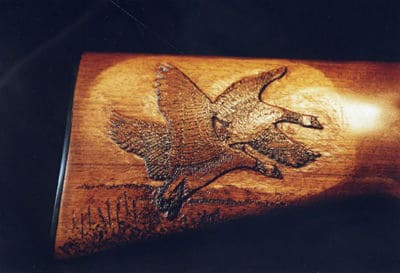 Flying Ducks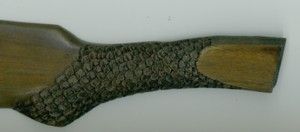 Fish Scale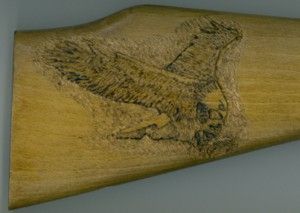 Eagle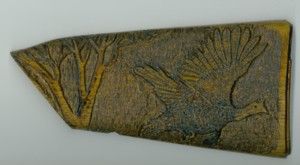 Turkey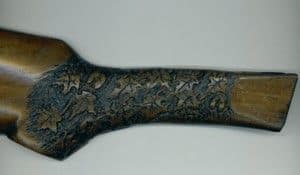 Maple Leaves

Oak Leaves & Acorns
Feel free to contact us by email.
go to top of page

 

The Gun Room - a classified listing of firearms and related info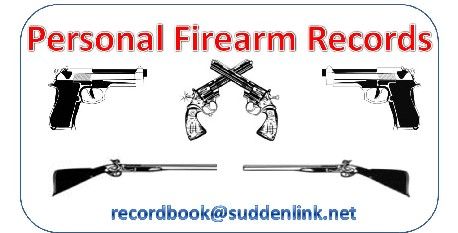 If you are looking for economical, professional and customized firearm record books, please check out this site